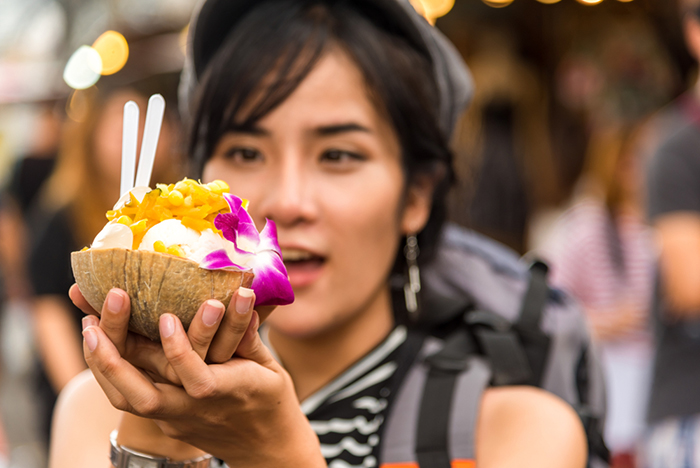 We all scream for ice cream, but when it comes to favorite flavors, people tend to be on different wavelengths. Team chocolate agrees to disagree with team strawberry, while disciples of butter pecan tolerate the simple loyalties of the "plain vanilla" contingent. If your household plays host to ice cream fans, it's likely your freezer has more than one selection for this very reason. Dad's container of rocky road shares the shelf with the kids' cookie dough ice cream, both at the ready to satisfy those individualized cravings.
 
Topping options offer even more levels of customization for sundae enthusiasts. From nuts to sprinkles, whipped cream to fruit, the perfect dessert topper is subjective – it remains firmly in the taste buds of the beholder. Pete's Market is here to expand your horizons! For those who are open to deviating from their norms, we present seven unusual ice cream toppings that may just pique your interest.
Breakfast Cereal
Add a little crunch to your scoops by sprinkling some Rice Krispies or Wheaties on top. You'll feel good about infusing your ice cream with some essential vitamins and minerals while enhancing your dessert experience. Push the envelope with Grape Nuts or another hardcore healthy cereal – you'll find that their textures mix nicely with most flavors of ice cream.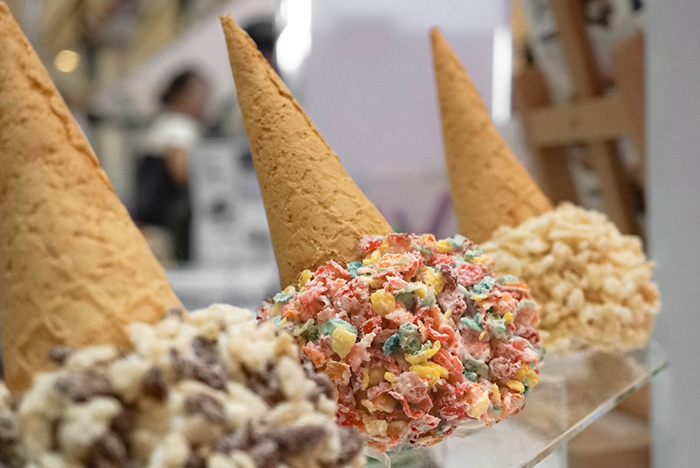 For those wanting a sugar rush, there's no shortage of sweetened cereals to pair with your favorite ice cream. Peanut Butter Captain Crunch goes great with chocolate, while Fruity Pebbles can take basic vanilla to new heights. Cereal and ice cream open the door for limitless possibilities… use your imagination!

Stale Donuts
Got some 2-day old donuts left over from Sunday's visit to Pete's Market bakery? Don't throw them away… toss 'em in with your ice cream! Semi-stale donut pieces may not have universal appeal on their own, but all bets are off when they're accompanied by a delicious spoonful of French vanilla or fudge ripple ice cream.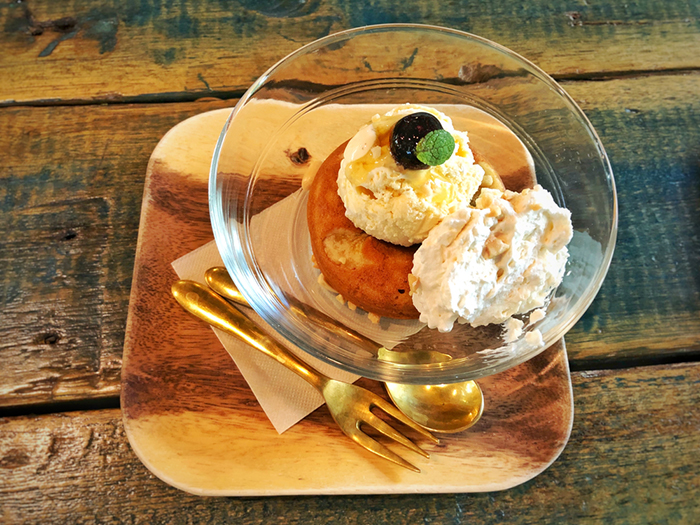 Every type of donut (stale or fresh) has a soulmate in the ice cream universe: strawberry frosted donuts are destined for banana splits. Devil's food donuts were made for scoops of cookies and cream. Whatever your preference, the pairing of these two foods is undeniably perfect. Pro tip: Flip the script by topping the donut with the ice cream.
Popcorn & Pretzels
At first, this may seem like a non-starter… but it really isn't that weird. Savory, salty popcorn and pretzels have been in lockstep with the world of sweets for decades. Caramel-corn? Chocolate-covered pretzel sticks? They are as popular as ever, so recreating them atop your ice cream makes perfect sense. These salty, crunchy flavors will dance elegantly with the sweet taste of your ice cream. Your friends may look at you sideways until you convince them to try it. Then they'll owe you a favor for showing them the light.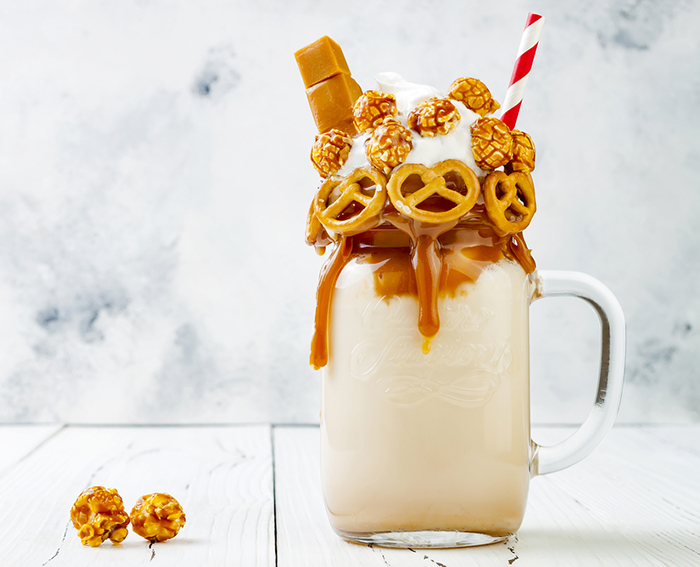 Ground Espresso
Here's a sophisticated ice cream topper for the die-hard coffee lover. A dusting of finely-ground espresso on the peak of your preferred scoop is all you need for some nice, mocha notes in every delicious bite. While it may not work with busy flavors like Neapolitan or birthday cake ice cream, a coffee-dust topping adds welcome notes of java to classic ice cream flavors like chocolate, vanilla, and other standards. Mint-chocolate chip with a little taste of espresso? Yes, please.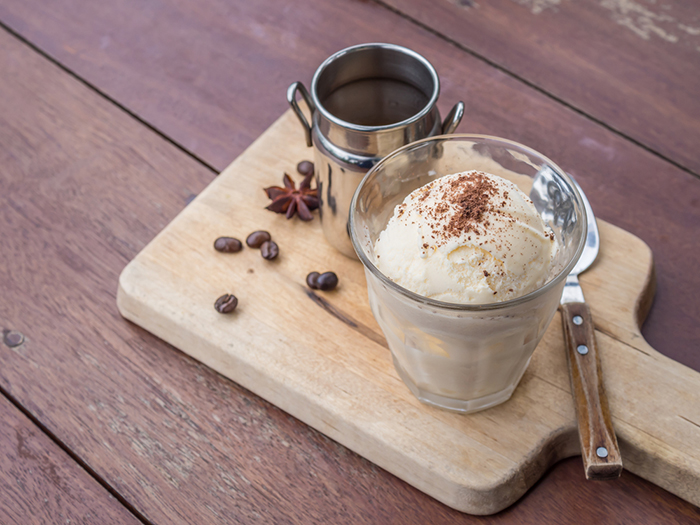 You don't need beans and a grinder to merge your ice cream dish with your coffee cup. Some folks use instant coffee crystals straight out of the jar for the same effect. More extreme coffee adventurers have been known to go full-out, topping their ice cream with chocolate-covered coffee beans.
Candied Bacon
We aren't kidding. This is a thing, and it's awesome. It takes a little prep work and a trailblazing spirit, but flavor pioneers are swearing by candied bacon as an ice cream topper. Coat some bacon in brown sugar, then bake at 325° for 20 mins. For a little extra kick, add chili powder to the sugar. Once it's cooled, crumble over a scoop or two of maple or peanut-butter based ice cream. You'll be glad you did, even if your kids run screaming from the kitchen.
 
Candied bacon goes particularly well as a crumble added to Magnum chocolate-covered ice cream pops. Here's a quick video from the master-chefs at delish.com to whet your appetite:
Much like the popcorn and pretzel toppers, the salty taste of the bacon actually brings out more of the ice cream's sweetness. Let's hear it for bacon, the gift that keeps on giving!
Crackers
Breaking the surface of a perfectly scooped ball of ice cream with a Ritz cracker may seem like sacrilege, but don't knock it until you've tried it. Basic, salty, butter crackers are also a valid option for those who like a little salty with their sweet. Still not sure? Next time you dish up some ice cream, grab a cracker, dip it in, and take a bite. We think you'll become a true believer.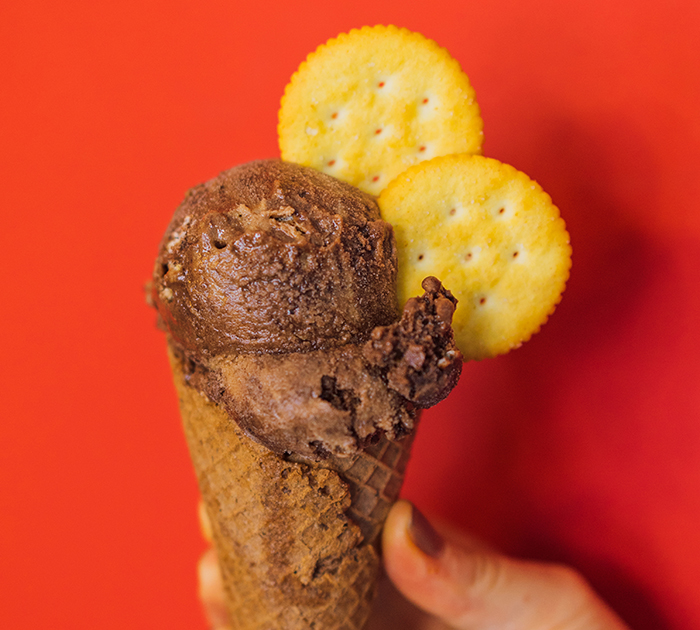 We recommend starting slow. Don't mix Cool Ranch Doritos with pistachio ice cream right out of the gate (unless you really want to.) A growing number of ice cream fans are testifying that BBQ potato chips are the ultimate topper… a significant departure from a Keebler Townhouse cracker. But hey, different strokes.
French Fries
If you don't believe this one, feel free to Google it. Better yet, just give it the dip-test. Considering everything you've read today about salty and sweet, our seventh and final ice cream topper really isn't that radical. A crispy, lightly seasoned fry, tempered with a dash of cold, sweet vanilla might just be the kind of pairing that would make Food Network judges swoon.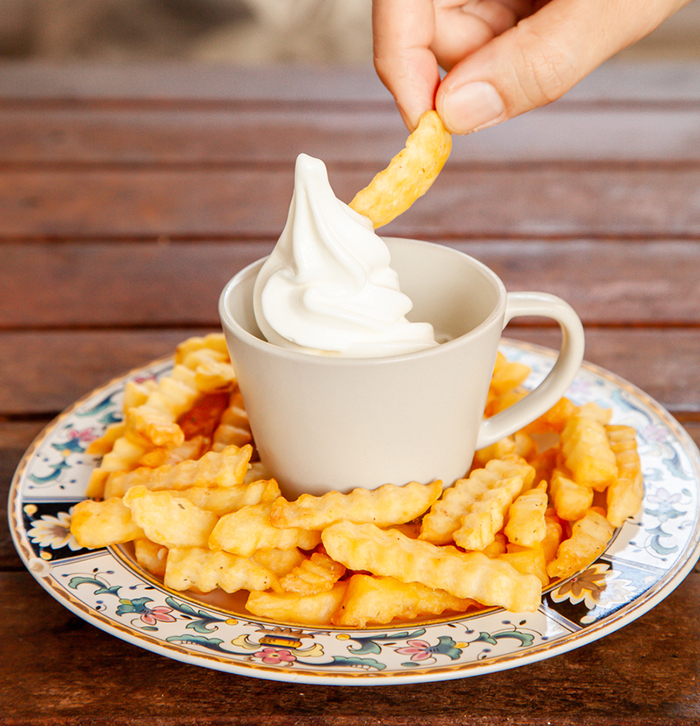 Sure, fries and ice cream together may sound strange – but no more so than pineapple on pizza, ketchup on scrambled eggs, or mint jelly on lamb chops. The bottom line is this: Were it not for risk-takers, food would become boring. And we won't sit idly by and allow that to happen.
 
Make Pete's Market your dessert depot for your favorite ice cream flavors and all the toppings you can imagine. Stop in, stock up, and enjoy a truly elevated grocery experience at any of our Chicagoland stores.