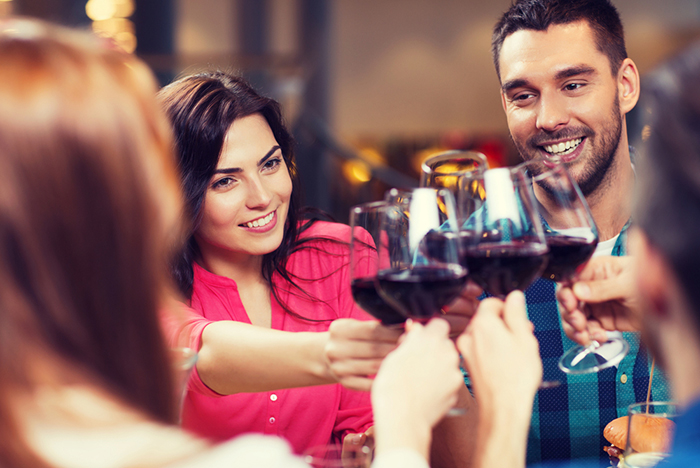 August 28th is National Red Wine Day, which begs the question "What does that actually mean for those of us who don't know anything about wine?" At Pete's Market, we're big supporters of any "holiday" that celebrates food and drink… so our advice is to open a bottle of red wine with dinner and let your social network know you've popped the cork on #NationalRedWineDay.
 
But where do you begin? If you're not a red wine connoisseur, the sheer scope of the selection at a Pete's Market wine & spirits department could be intimidating. Should you start with a Shiraz, or would it be better to try a Merlot? Fear not, we're here to help. Click here for a detailed breakdown of all the different types of wine we offer in several of our stores.
 
For those interested in how to "properly" taste and evaluate red wine, we encourage you to enjoy this video from our friends at Fine Dining TV. If you're new to wine culture, you might just gain some insight into the physical differences between a Pinot and a Cabernet. At a minimum, it's kind of fun to hear a classy French guy talk about the finer points of wine fermentation. But if you're in a hurry for our four recommendations, skip over the video and come back to it later.
In the spirit of National Red Wine Day, we'll keep the remainder of this blog short and sweet, putting four amazing California wines on your radar (along with the delectable foods that are best paired with them).
Stephen Vincent Napa Valley Cabernet Sauvignon
The Cabernet Sauvignon started in France during the 17th century as the result of an accidental breeding of two different grape plants: Cabernet Franc and Sauvignon Blanc. Today, it's arguably the most popular choice with American wine enthusiasts. Weird, right?
 
This wine's superb quality is certainly no accident. From the famous Napa Valley in northern California comes the Stephen Vincent Cabernet Sauvignon – a classic red wine with aromas of blackberry liqueur, boysenberry, and anise, with hints of pipe tobacco and exotic spices and a slight suggestion of spearmint.
 
We know, it sounds like a lot to take in… but tasting is believing. In fact, half the fun of a wine like this is training yourself to detect all of the subtleties that are so expertly balanced in the bottle. Then again, there's nothing wrong with just taking a sip and saying, "Mmmm that's really, really good wine."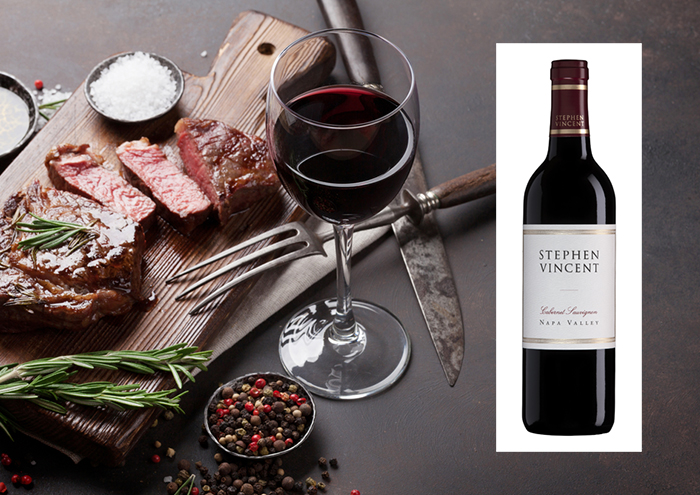 So what should you cook for dinner when you bring home a bottle of Stephen Vincent Napa Valley Cabernet Sauvignon? In this case, prime rib, New York strip, or filet mignon are your best bets. Really, any quality cut of red meat will provide the perfect canvas for the wine's flavors to work their magic. Its dark fruits like ultra-ripe raspberry, black currant, dried black cherry, and blood plum intertwine with its oak-derived notes of caramel, toasted coconut, and briarwood to balance out the robust flavors of the meat. Lamb chops are also a winning counterpart to this excellent choice of wines.
Cycles Gladiator Cabernet Sauvignon
Another lively Cabernet Sauvignon comes from the Golden State's central coast region, courtesy of Cycles Gladiator. This wine company borrowed its name from a 19th century French bicycle manufacturer and even replicates their original, antique artwork on the bottle's label. But if the naked lady flying through the sky on a bike doesn't pique your curiosity, the wine itself most certainly will.
 
Starting with lovely aromas of raspberry, mint, and mocha, the palate of this particular Cabernet Sauvignon shows layer upon layer of dark fruit flavors. Notes of dark riparian fruit like blackberry are infused with the faintest hint of dried herbs and cedar. Gobs of raspberry, plum, and black cherry flavors are fully-supported with a generous thread of acidity. Tannins are pronounced, but pleasingly supple.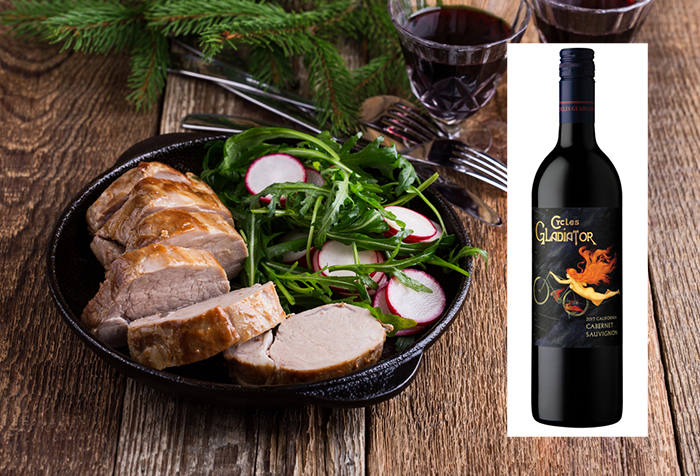 Its blend of 87% Cabernet, 9% Merlot, 4% Petit Verdot makes for a fruit-forward wine that will pair well with beef short ribs and other slow-braised beef dishes (especially ones that involve red wine in the cooking process). Roast pork and pork loin are also perfect companions for the Cabernet Sauvignon from Cycles Gladiator.
Cycles Gladiator Pinot Noir
Pinot Noir is generally regarded as the most popular light-bodied red wine, largely due to its higher acidity and fruity essence. It is an elegant wine with a much smoother vibe than the Cabernet Sauvignon. Many wine drinkers love the Pinot Noir's lower tannins and subtle floral notes - especially when enjoyed with fish and fowl.
 
Cycles Gladiator stands out once again with its unique and all-around exquisite Pinot Noir. It opens with a cherry-cola nose, with hints of spice and leads to a silky palate of black cherry, pomegranate, and strawberry. Its acidity is well balanced and helps preserve the sensation of velvety vanilla well into the finish.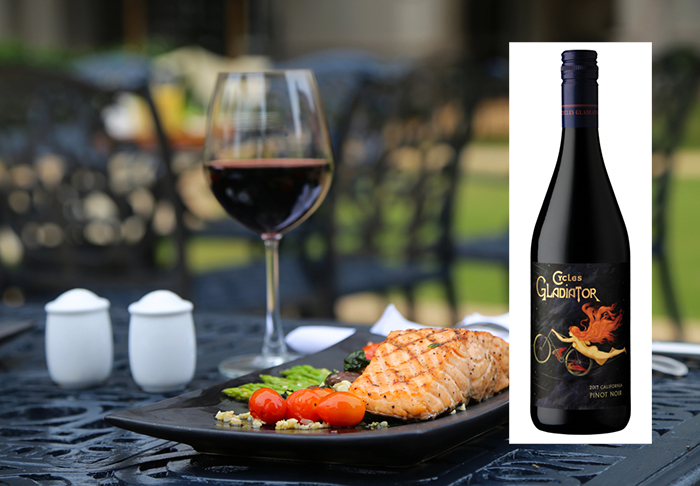 The wine is perfect for rounding out an entrée of
oven-baked salmon
, roasted
mushroom
with herbs, or this incredible
Bon Appetite Magazine
recipe for
braised duck legs with polenta and wilted chard
. Cycles Gladiator's Pinot Noir goes particularly well with duck because its bright fruit flavors are quite effective at penetrating the rich, oily, dark meat. As in life, these opposites attract – and sparks fly!
Broadside Printers Alley, Paso Robles Red Blend
Can't decide between the bold punch of a Cabernet Sauvignon or the smooth touch of a Pinot Noir or Merlot? Split the difference, and try Printer's Alley from Broadside – a wine that blends 50% Cabernet Sauvignon, 30% Merlot and 20% Petit Verdot into a medium-bodied, dry red wine that's both delicious and economical.
 
Broadside founders Stephanie & Brian Terrizzi have been making California wines since 2006. Their mission and methods are centrally focused on showcasing the unique soils and topography of the Paso Robles area, sourcing fruit from sustainably-farmed vineyards and capturing the central coast's charm and flavor in every bottle.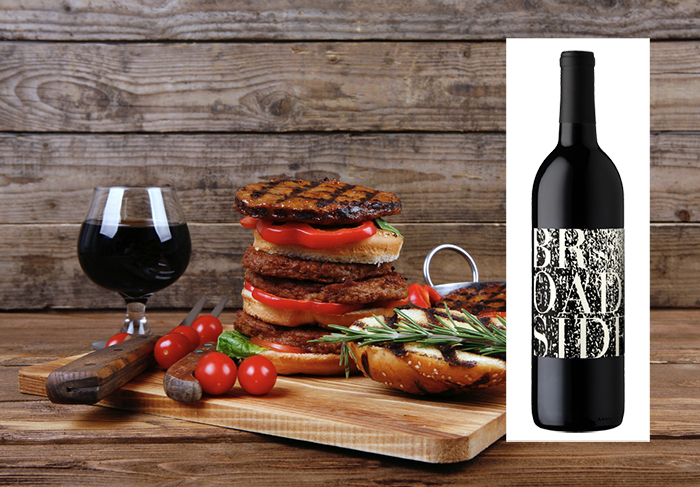 Broadside's Printer's Alley offers black plum and black cherry flavors that intertwine with subtle hints of dried fennel frond. Wrapped in a chalky mouth feel, its palate brings broad red-fruit and baking-spice flavors with a hint of dried herbs.
If you're a
gourmet burger
enthusiast and like to showcase your skills between the top and bottom bun, consider pairing the Broadside Printers Alley red wine with your next creation. Not only does the wine mesh well with the satisfying flavor of
beef
, but it also complements
garlic
,
mushrooms
, and a variety of
cheeses
.
Visit your local Pete's Market for a wide variety of wine, beer, and spirits featuring old favorites and new labels from around the country. Please drink responsibly.